After church yesterday Jakob suggested that we could go to Bishops Arms on Järntorget since they had a porter festival there. After a dinner we walked there and had some porter!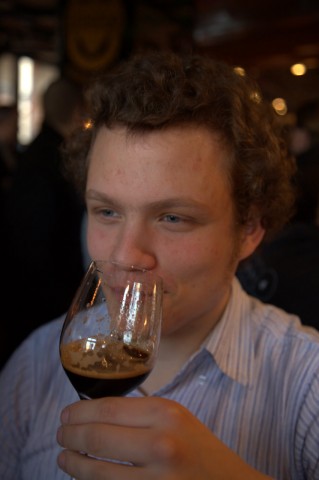 Jakob …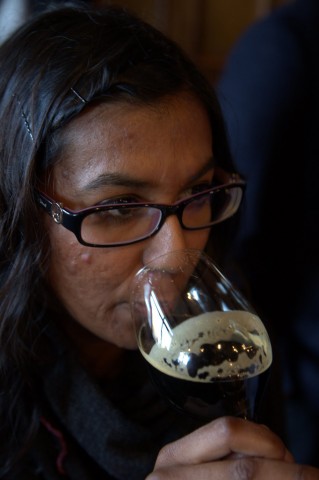 … Rebecka …
… and me.
One kind of porter.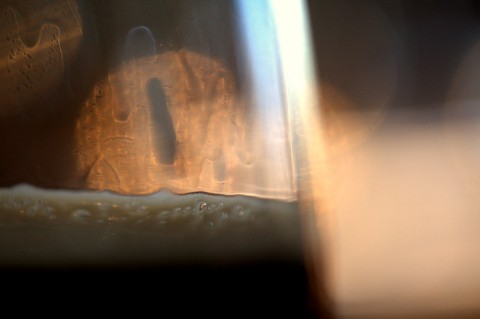 Another porter.
For those of you who don't know about porter it is a kind of beer that is really really really dark. My favourite was Sigtuna stark. The others fevourite was Caribbean Rum Stout.
Sunday, October 18, 2009, 22:37
The last day we did different things. We had sushi and went to a dance show that I thought was very wierd (They spitted paper). And we went down a slide.
Sunday, October 18, 2009, 22:33
The second last day in Germany I and Bodil went to the Oktoberfest! It was a lot of fun! Here is a lot of photos: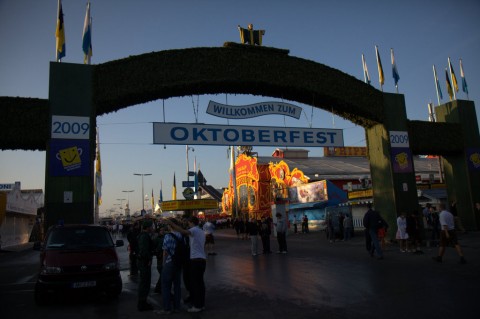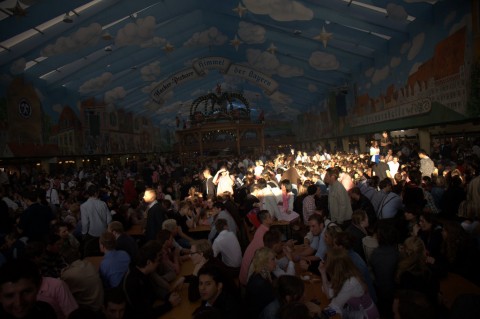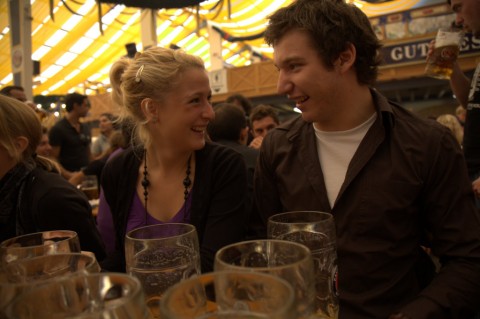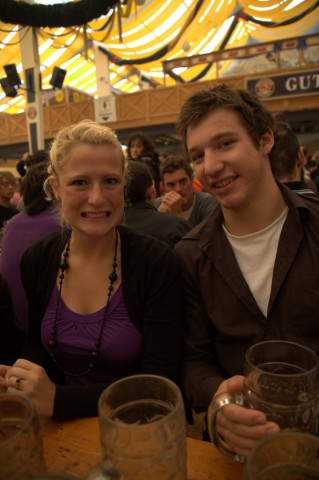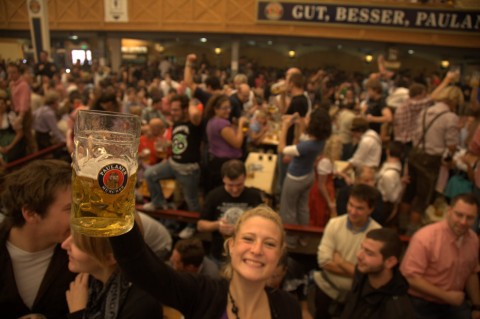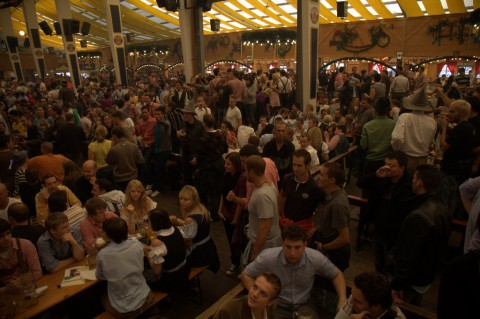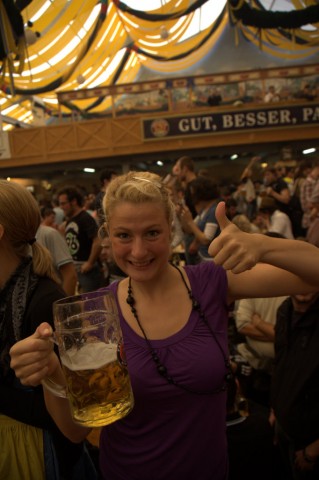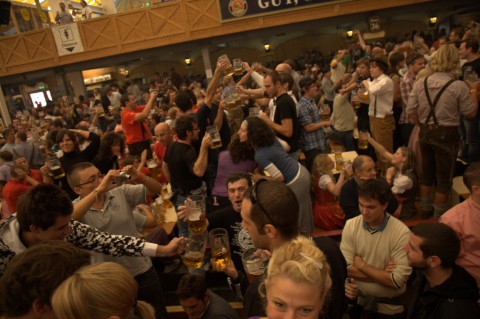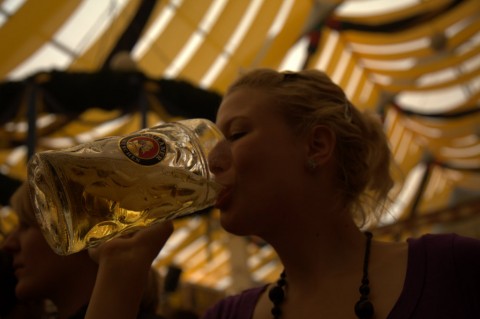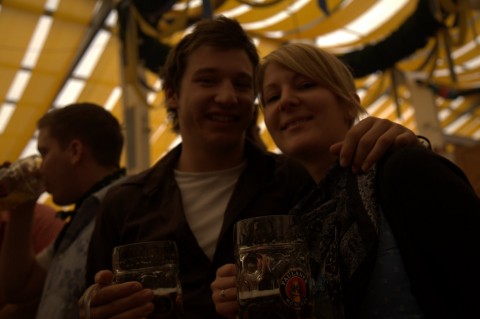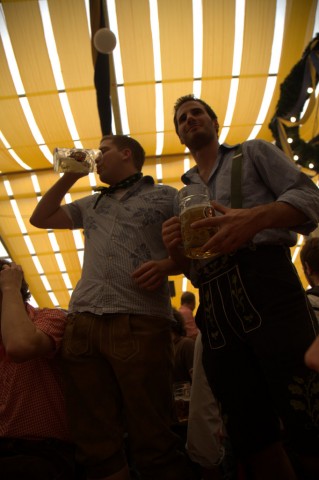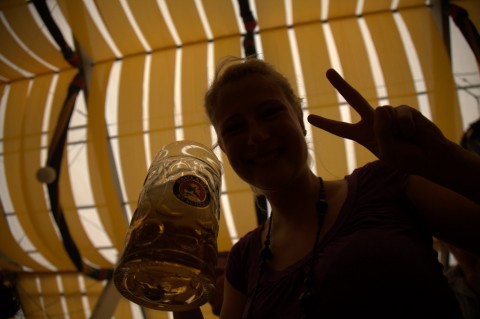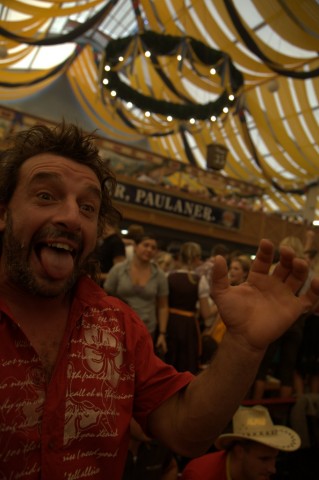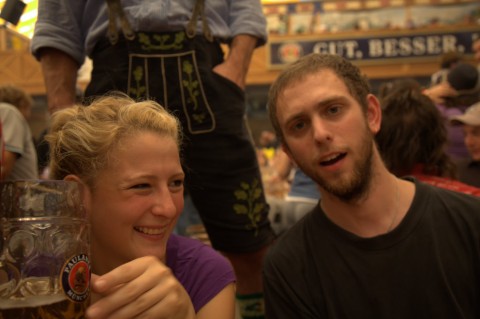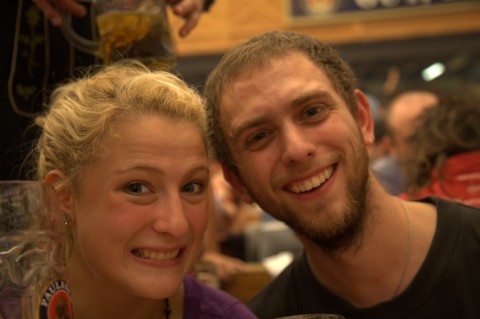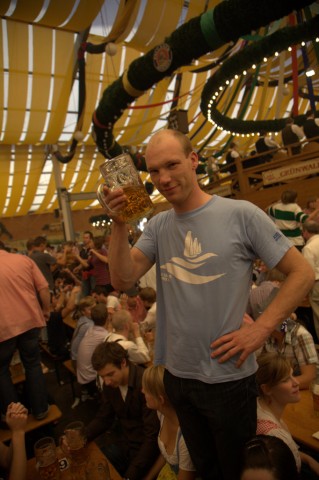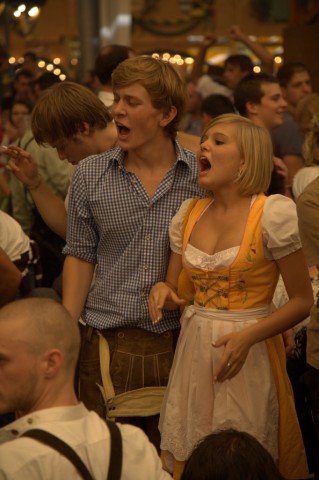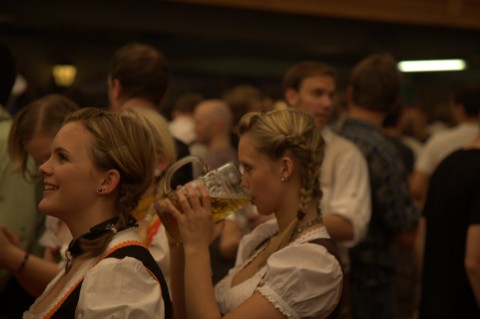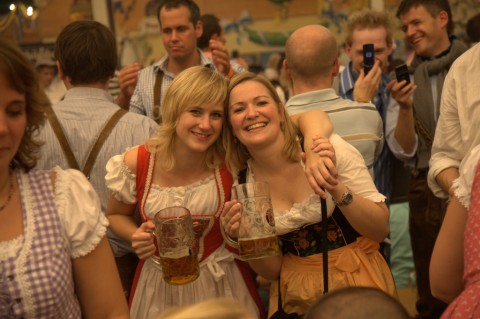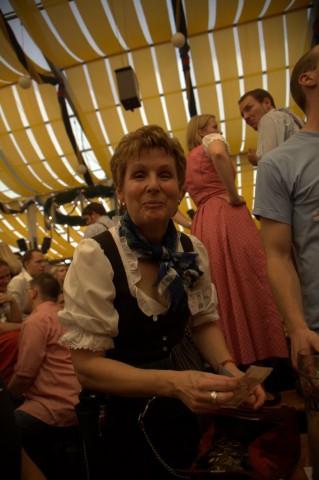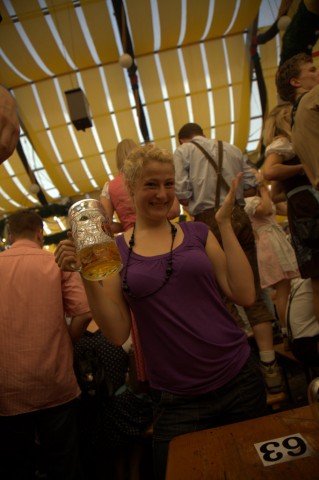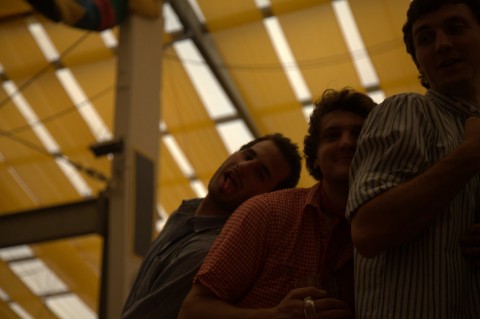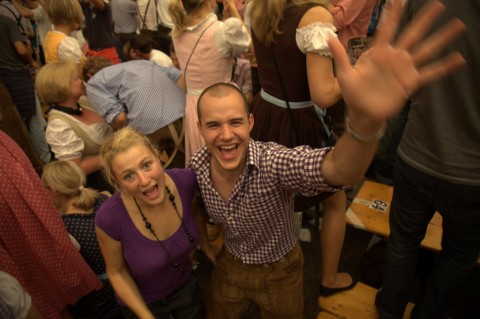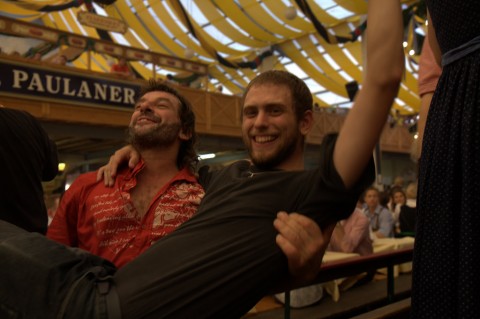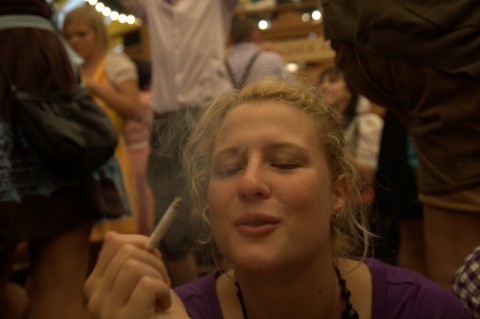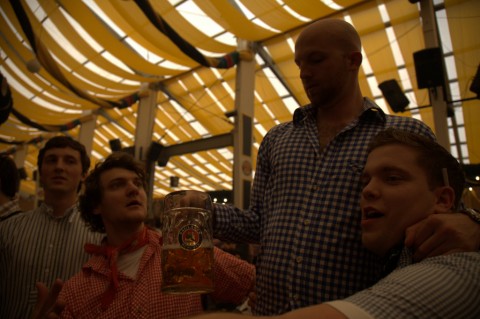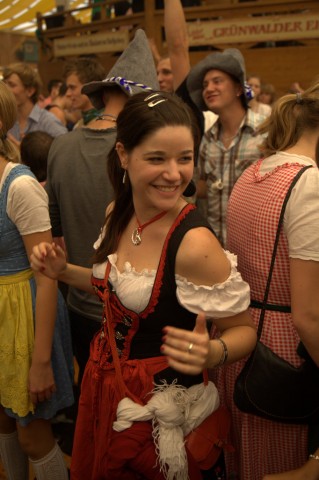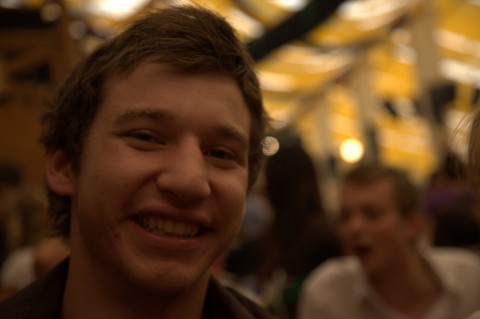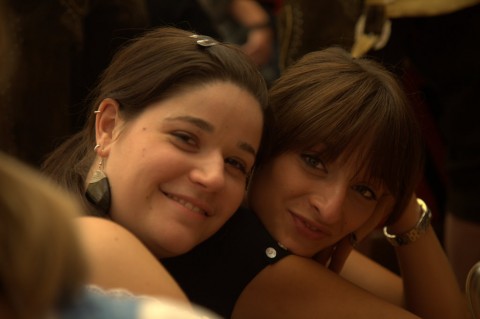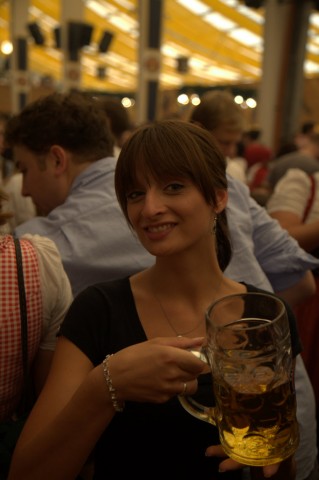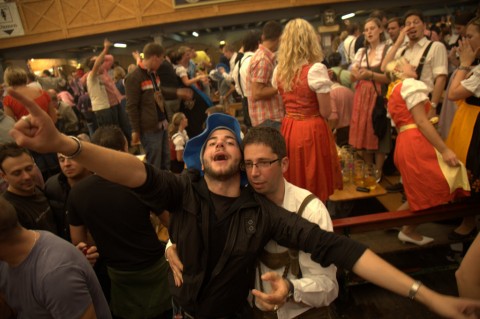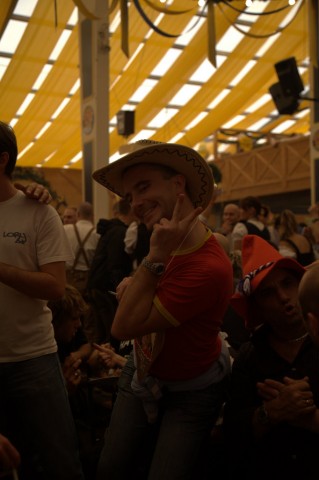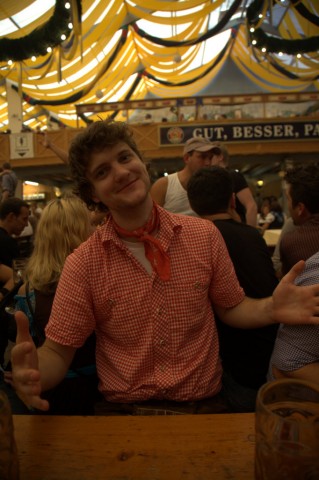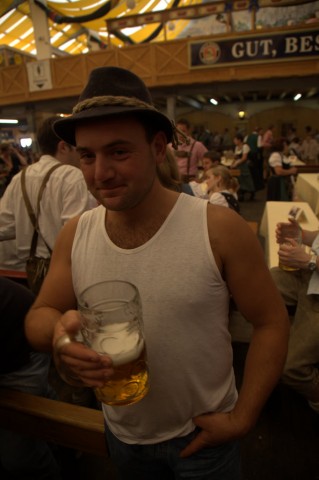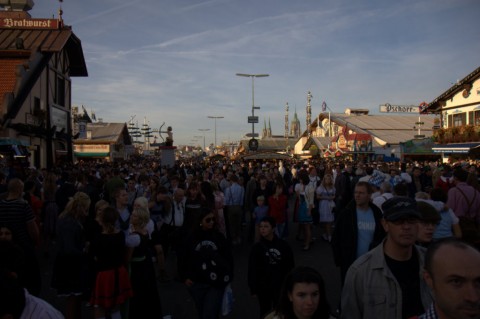 Wednesday, October 14, 2009, 21:22
On day 5 I went to Munich and to Bodil. After some shopping she was of to her dancing. Then I took a walk with Wilma.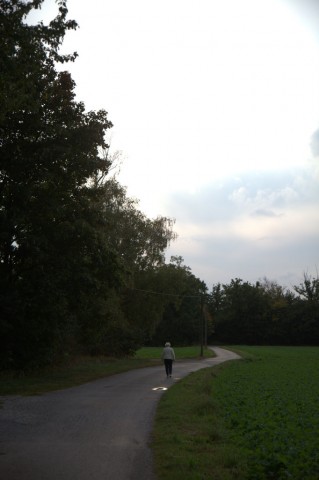 Pretty close to Bodils there are fields. She doesn't live as close to the city centre as before.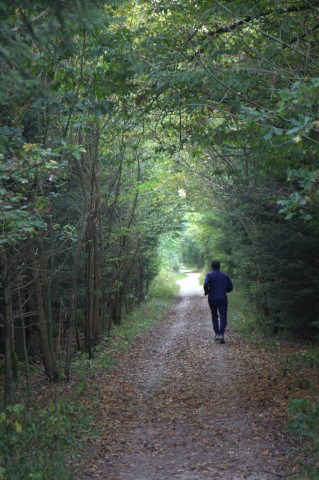 And there are forest to run in (I didn't run).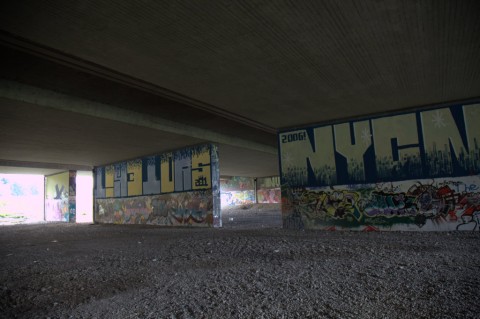 And there was a huge funny tunnel under a motor way. It was decorated. The tunnel might have been there for some road that never got built or will be built or was demolished a long taime ago or it was there just for fun.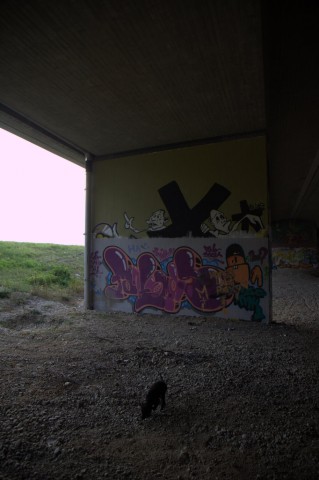 More decorations (and Wilma).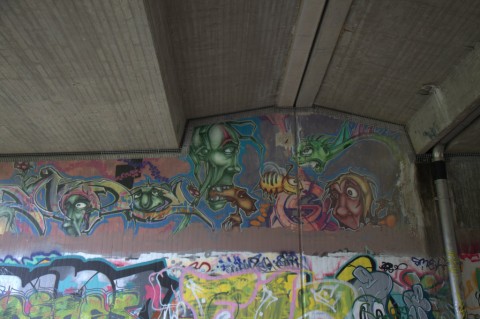 even more.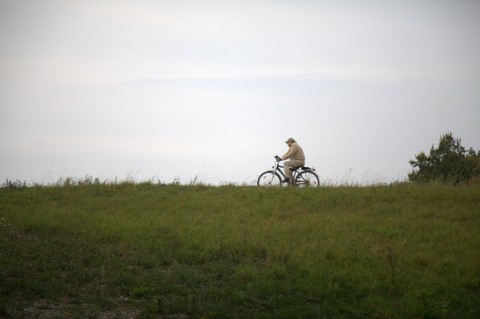 Someone was cycling by.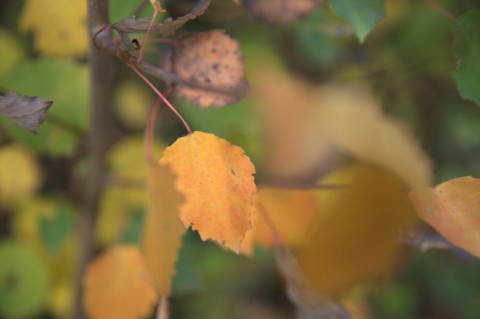 It was pretty cold so the autumn colors had started to come. I didn't take many nature photos so this is one of very few. But it was still a lot better weather in Germany than in Sweden where it was also a lot of rain.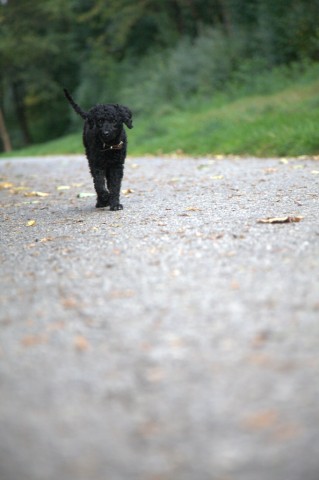 As written Wilma was with me on the walk.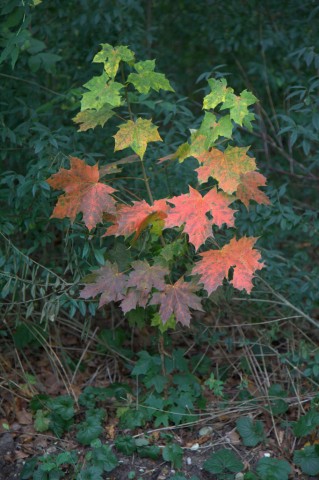 A maple had a lot of colors at once.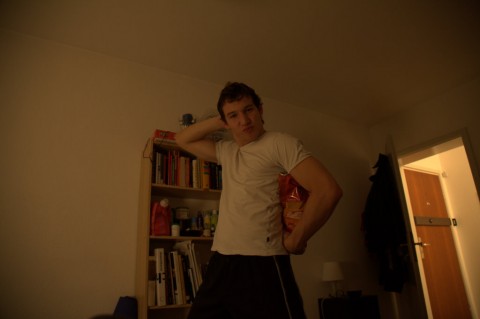 Then when Bodil had come home a pretty wasted roomie also came home. Ha was lucky their hall is narrow so he had some walls to hold on to. But after some time he got better and talked some to us and posed for some photos.
Wednesday, October 14, 2009, 17:36
Second day in Bamnberg. More sightseing.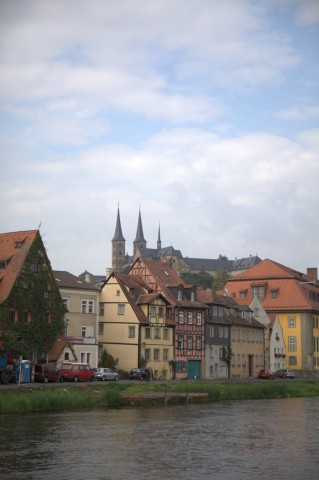 A lot of nice houses along the river.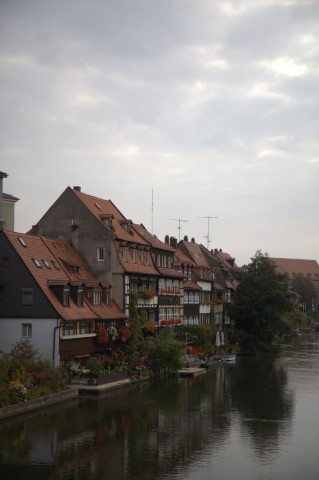 Even more nice houses along the river.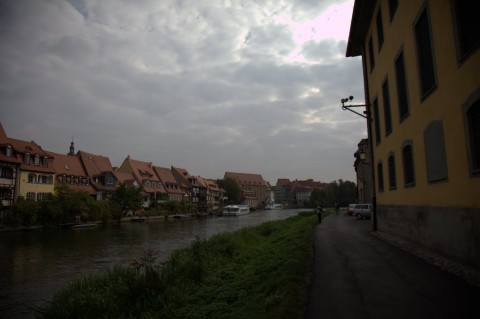 The same houses to the left as on the last photo. The house to the right is a prison that is known as being the prison with the best view. I wonder if that generates fewer or more relapsed criminals?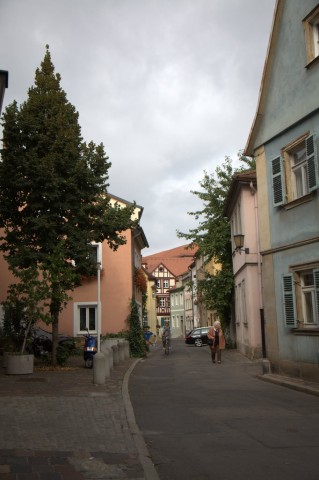 An alley.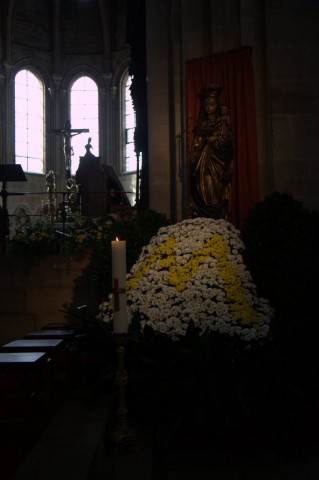 Inside the cathedral.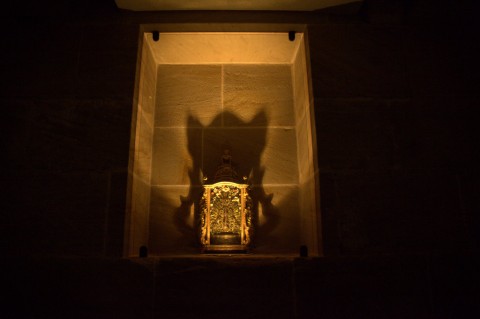 Under the cathedral there was a pope buried and one of these gold thingies.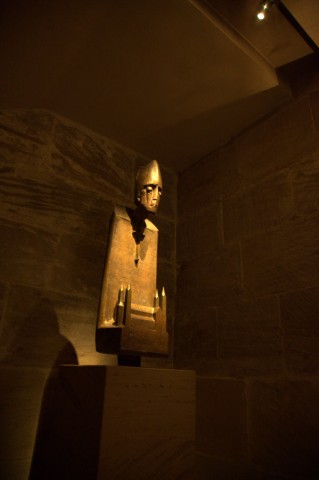 Here is a statue of the pope. He looks very happy, he must have made a lot of jokes!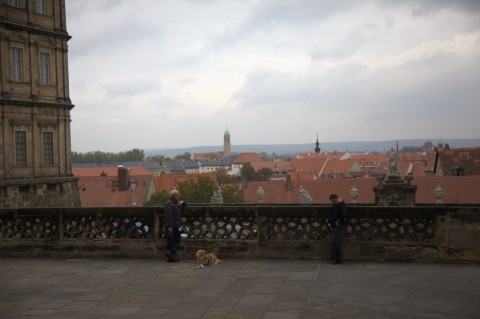 It is important to keep good distance now so you don't get the swine flue.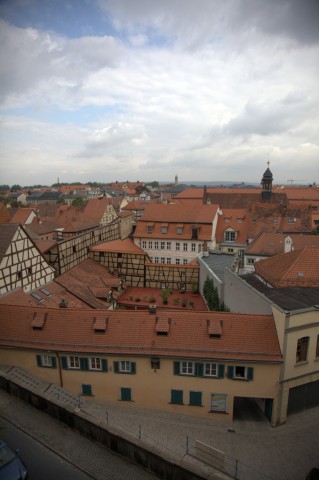 They had roofs in Germany too.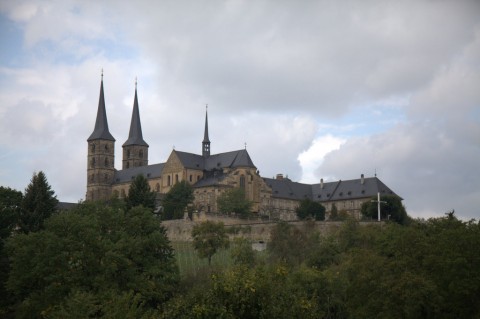 The monastery. This photo could have been really god if I would have waited until the sun would have shined nicely from some good angle.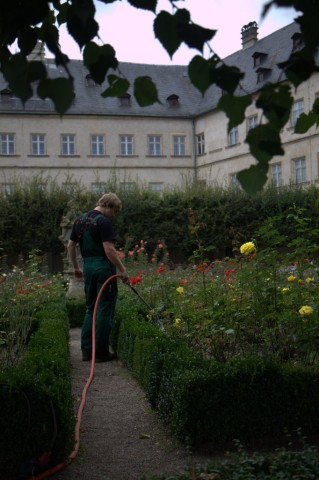 In the midle of the city there was a rose garden that I was recommended to go to and since it was along where I was going I walked in. Quite cool was that when you entered the garden (you had to walk throu a port in a wall to get in) you was stroke by a intence scent from the roses (and it wasn't even season).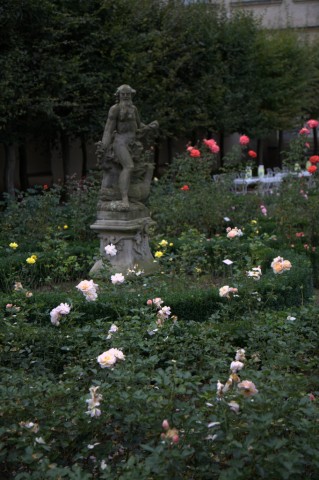 More roses.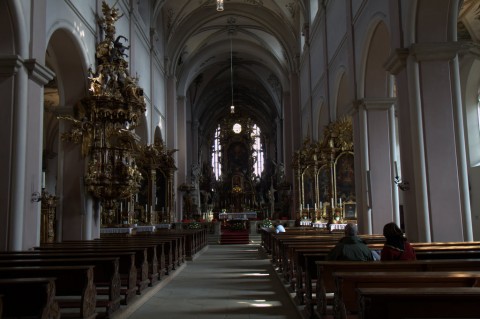 Inside the church at the monastery. Very decorated. Here some saint was buried. If you look at the roof you see small green decorations in tje corners. The monks that painted the roof were trying to paint all the flowers. (I think it was all intheir garden, but still a lot of flowers). So all of them are differen!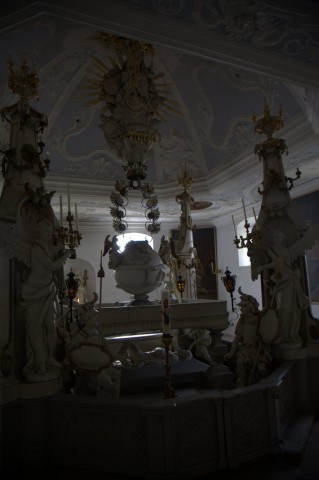 There was more graves in that church.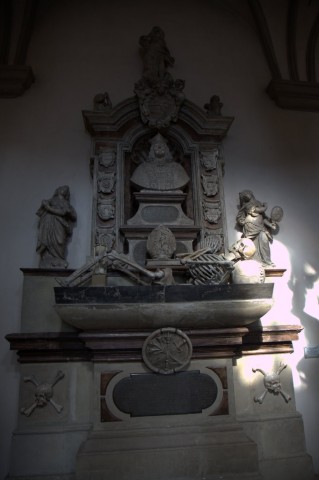 This might also have been a grave.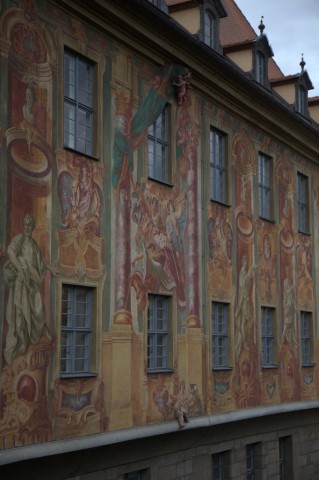 Note these facade paintings.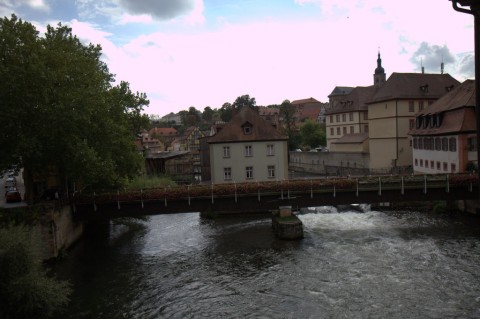 As you can see on the bridge Germans like pelargoniums.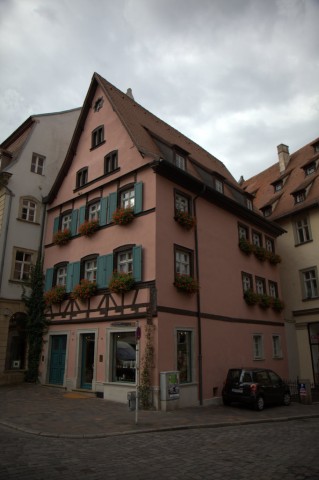 … a lot!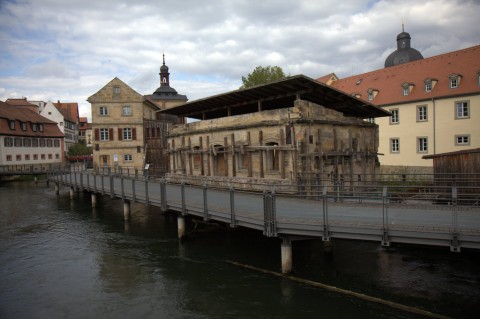 Not so nice house.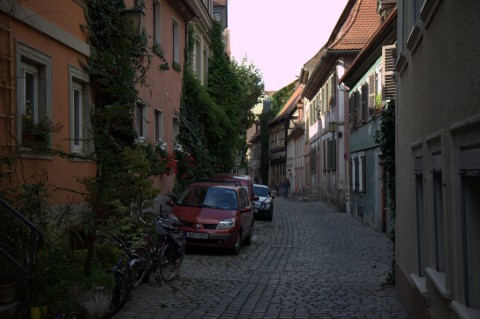 Nice alley.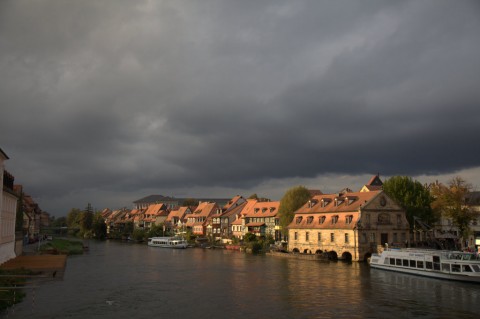 Nicely sunlit.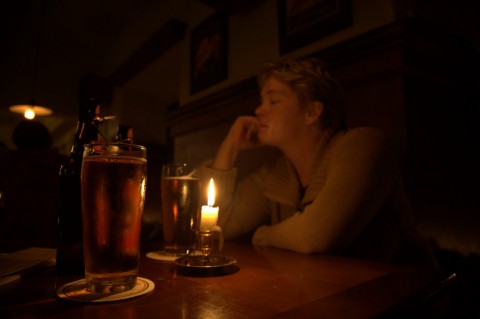 Th one I stayed at.
Sunday, October 11, 2009, 18:20
After two days in Berlin I took the train down to Bamberg. Bamberg is a small town between Berlin and Munich. That I chosed to go to Bamberg depended on that it is a city between Berlin and Munich that it was easy to go to and from by tran (no stops). That Bamberg also showd to be a nice city with a lot of nice houses and stuff (Many enough to be on the UNESCO world heriatage list) and also a sick amount of breweries (9 in the town and >100 outside) was pure luck. Of all those breweries I had time to try beer from 4.
In Bamberg I was gonna stay at a girl I found via couchsurfing, but she worked until nine so I had a long day to see the city.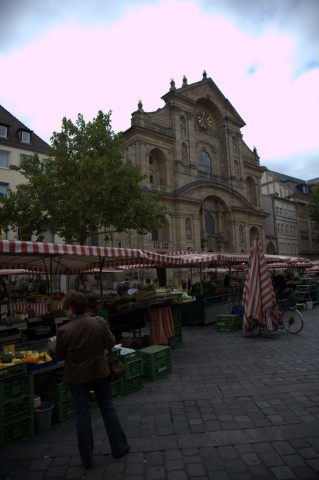 The day started with a walk through town to the tourist info center. I walked pass some kind of market…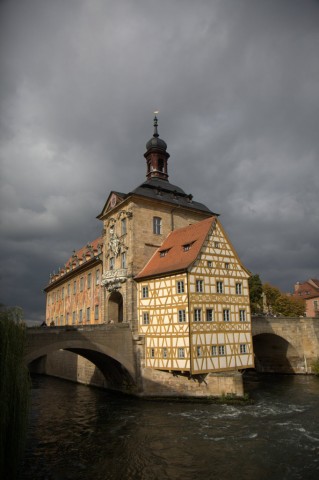 Ando over a river with a cool hous in it.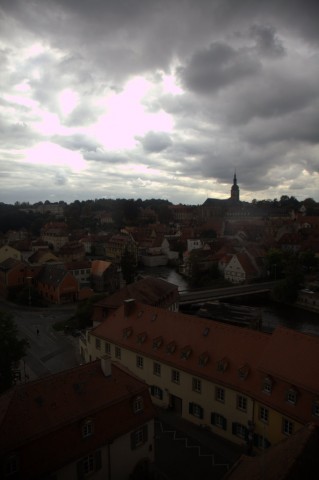 An to the tourist office. Next to it there was a tower which you could borrow a key to and walk up in (for free).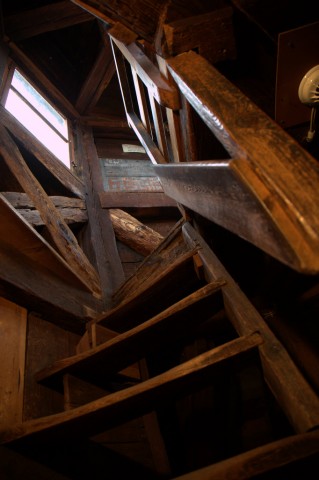 It was stairs up in the tower.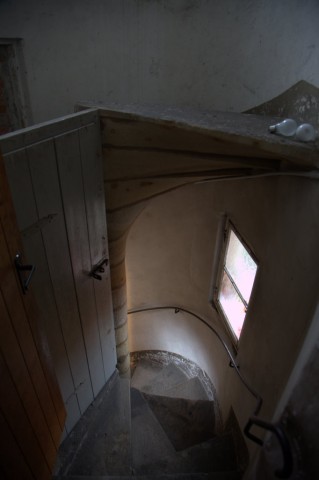 and down also. (Note the lightbulbs and how the stairs end, anyone else that thinks of Life of Brian?)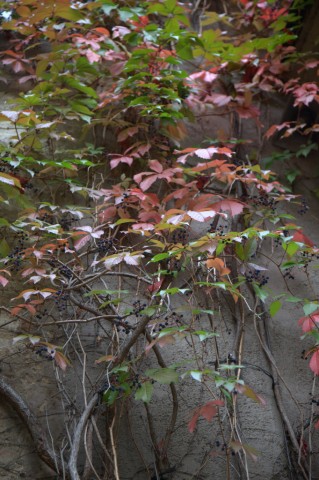 These kind of grapes they had on a lot of places. The grapes are mostly seed and taste sour. Not good at all.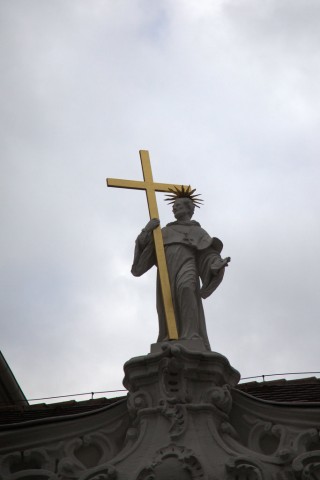 Fella with a cross on a roof.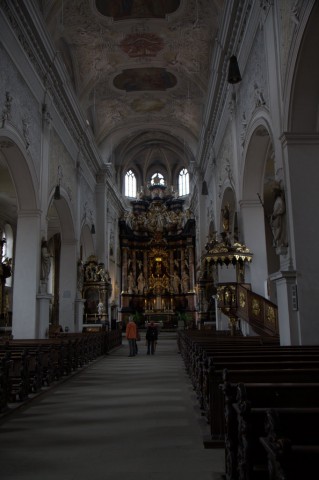 Inside a nice church.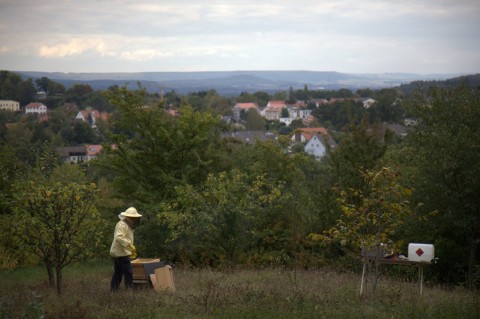 Bee farmer (like no one could have guessed that by them selfes?)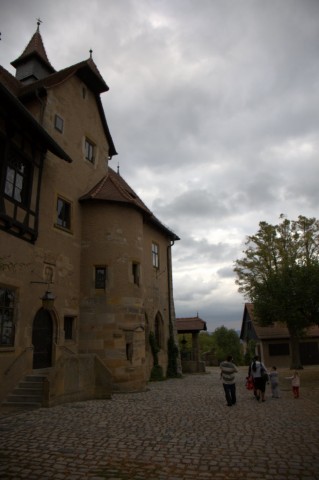 Up at the oldest castle in the city that was on a hill about a kilometre fron the city centre. Tha castle name even was altenburg (means the old castle).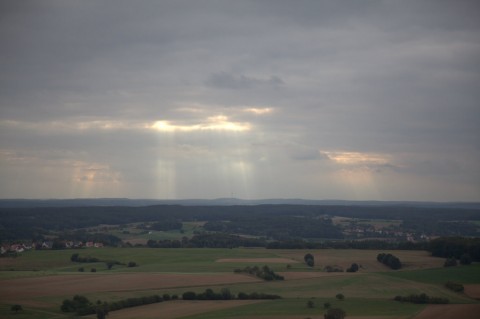 View from Altenburg away from the city.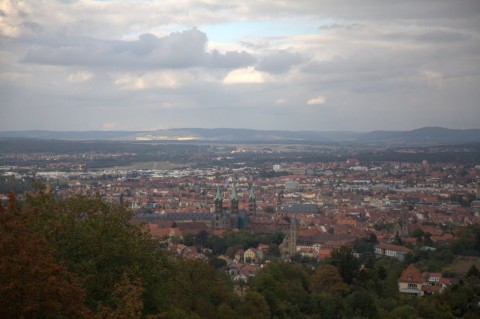 And view towards the city from Altenburg.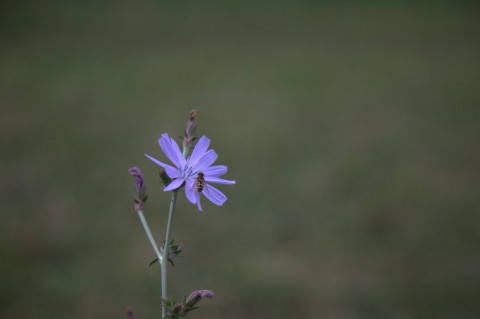 Nice flower with a hoverfly.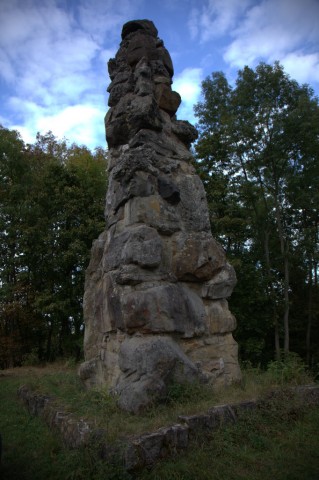 A funny landmark made to remember som battle or peace or an accident or something. I have already forgotten what.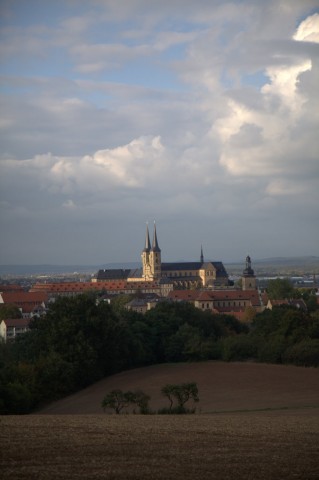 View to a monastery in the city on the way back from Altenburg. The city is supposed to be on seven hills like Rome. To find the seven hills one must have som imagiination and not have to strict rules about what to call a hill. The monastery is on one of the seven hills.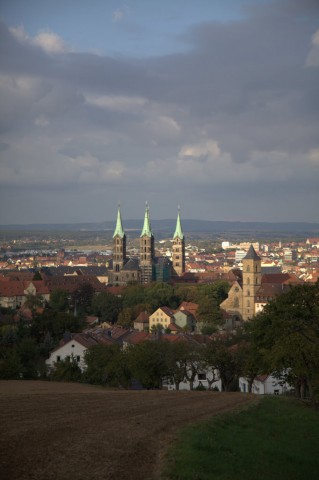 I think it is the Cathedral on this photo. This photo is taken from about the same place as the last one but aimed a bit to the right. I think the cathedral also is on one of the seven hills.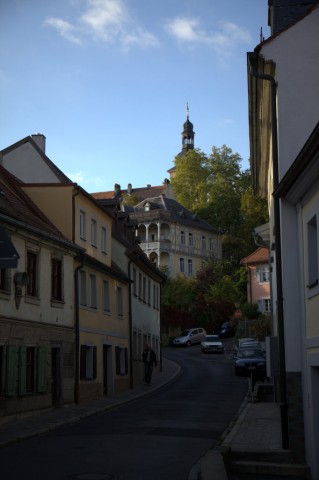 an alley.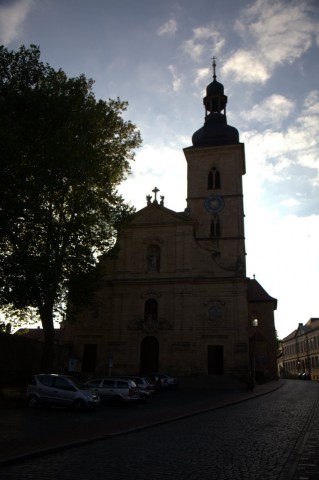 A church.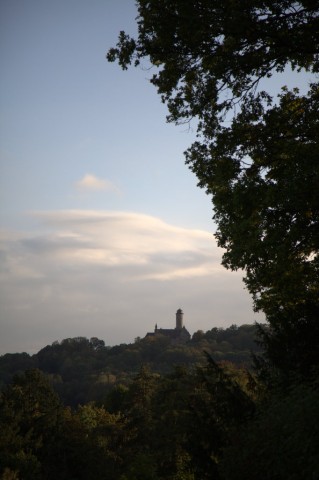 Altenburg that is located on the only hill that really is a proper hill (of the seven in Bamberg).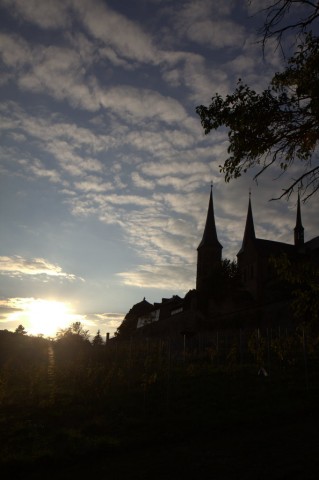 The monastery. (same as on one of the photos above) They were growing grapes but brewed beer?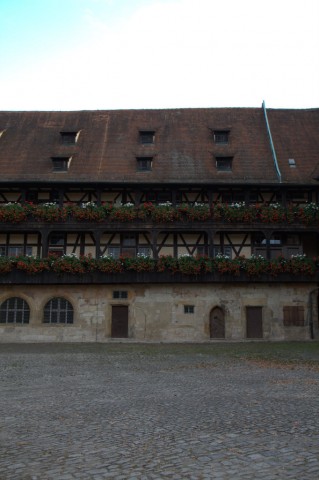 This probably is my most German photo. Germans seems to like Pelargoniums in their window boxes.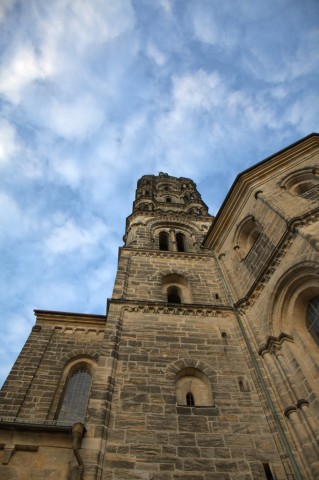 The Cathedral.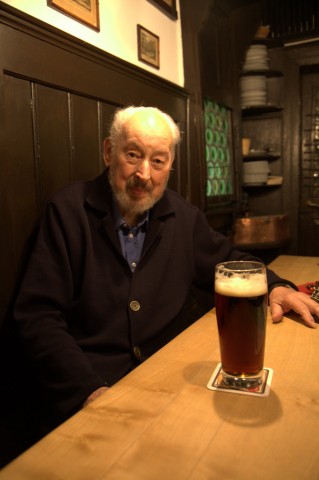 Then it begun to be evening and I started to search for a place to eat German food and drink beer at. I then walked past a place and stoped to check the menu. It was a lot of text and only in German so it took me a while to read. Then this man stoped and also checked out the manu. After a few frases in German he swithced to English (probably the only German that took initiative to speak in English). He said that this beer was the second best in the world (second to what have I forgotten). I don't know if he meant this particular breweri or beer from Bamberg in general. So anyway I decided to go into this place. The man joined me and showed me a table that was reserved. I then asked the man and he told me that it was reserved for the regulars and that he had been a regular at this place for 65 years!
He placed a beer for me to tast and said that he hadn't touched it. When I had tasted it and was about to order one for my self he ordered a second for himself instead. Then more people came and I was gonna order som food. I got calf leg that aparently was served in a typical way for the region. Then I orderd a second beer. When I was close to finishedthe man told me he had to leave and then payed for my food and beers. I had intended to pay for him as a thank for the talk and company, but it bacame the other way around.
The beer at this place really deserves a post of its own as it tasted about the same as smoked sausage. But after the first beer when one had gotten over that it was good. I'm gonns check if I can get it here in Sweden some time. I think the name was Shlenkerla. At this place they only served this beer from that brewery. Apparantly they did serve a second normal beer to, but if you wanted that you had to ask for that particular beer.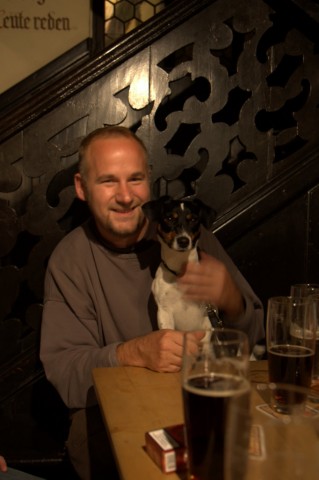 When the man had left I was alone at the table and asked if they had like a bar or something so that I didn't have to sit by my self. After a bit of asking (the waitress didn't speak any English) I found out that the hallwas the place to be. There I meet more people and spoke a bit German. Some didn't know any English and others seemd to enjoy that someone came and tried to learn German. This fella was one of the ones I meet at the hall.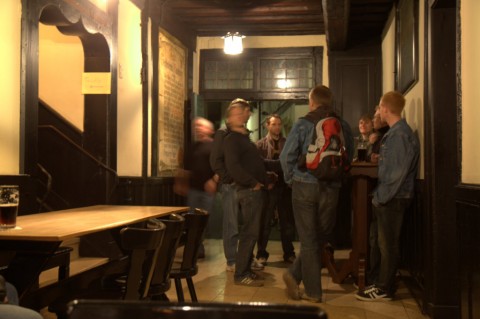 Others there.
Then the clock got nine and I started to walk to the one I was gonna stay at.
Thursday, October 8, 2009, 22:13
Between day 2 and 3 there was night 2. Then one of my small (very small) dreams came true. Tranceclubb att an underground club in Berlin. It would have been even cooler if the place would have been crowded, but I think it was as good as you can espect an tuesday night in the end of September. It was a dude at the hostel that had found this place to which I and some more joined.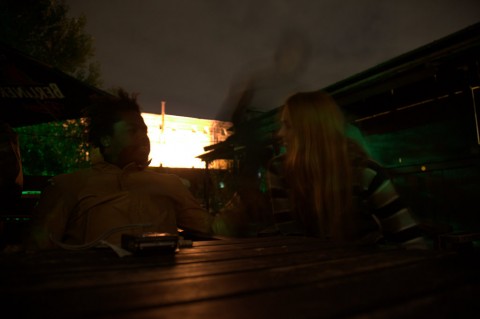 Two of the fellas from the hostel (and a third blurry in the background). The one to the left had spent a few months in Varberg which is where I come from in Sweden (not where I live).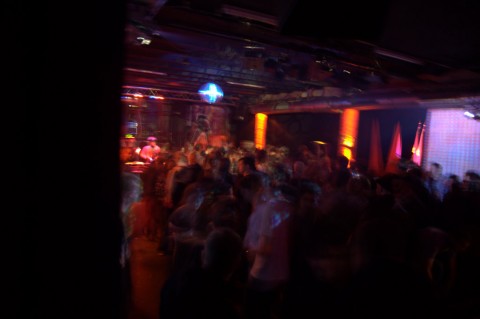 The dance floor at the club.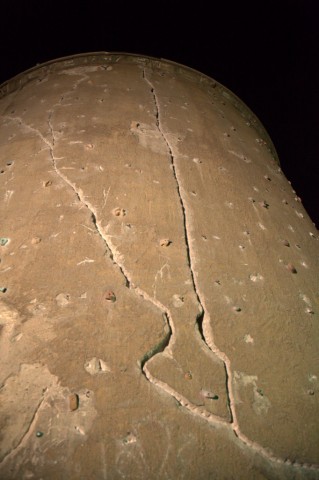 Outdoor there was some kind of silo that was remade inte a climb wall.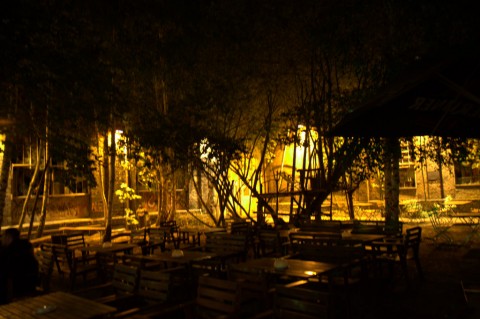 Lots of chairs and tables.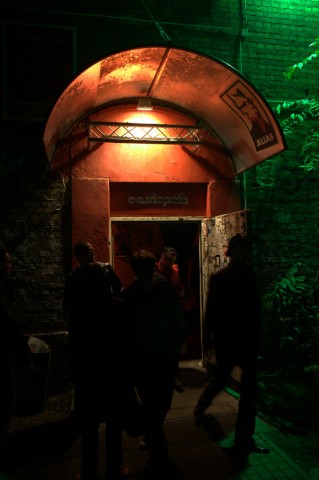 The entrance to the bar and dance floor.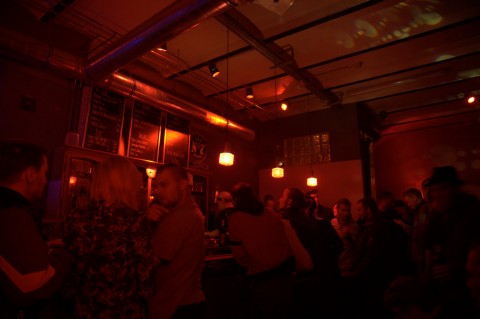 The bar.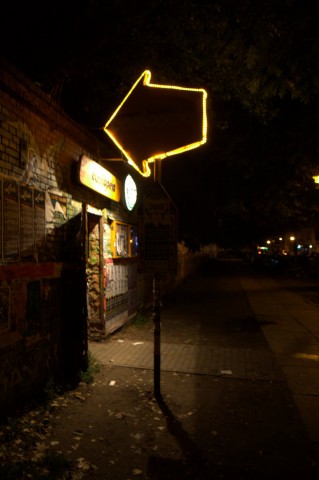 The entrance to the club. Not that underground, but they were smoking pot and were open later than normally allowed so it porbably was a bit underground after all.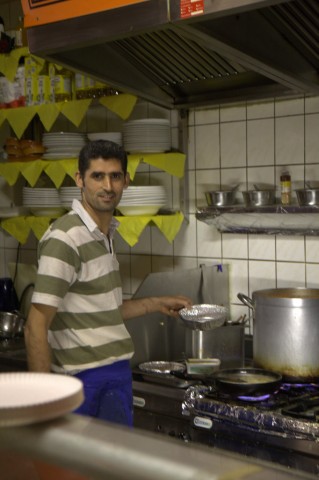 Afterwards some night food.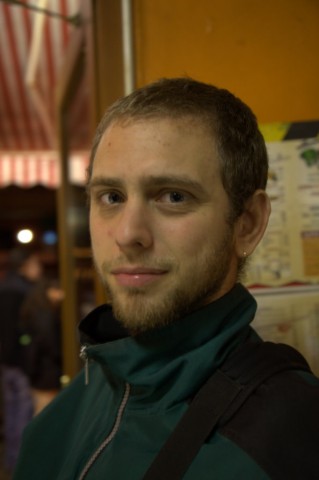 The dude from Varberg took a photo of me. (He took several but one turned out good)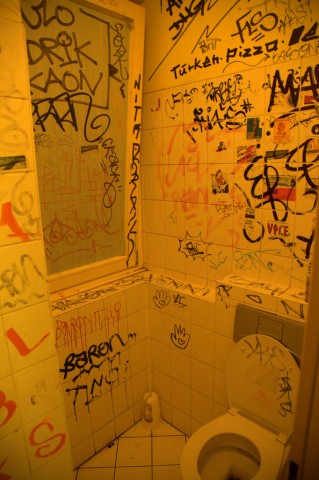 The Toilet att the night food place. Decorated.
Thursday, October 8, 2009, 17:59
Here is the next post on Germany. Day 2 was my tourist day in Berlin. A lot of sights to be seen. Again considering my pictures I keep to rather more then few.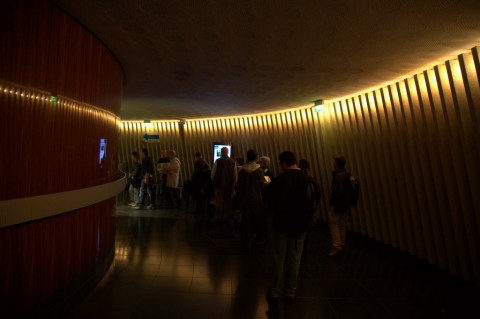 On my way up in the TV tower (Die Fernsehturm), it got a top modern design…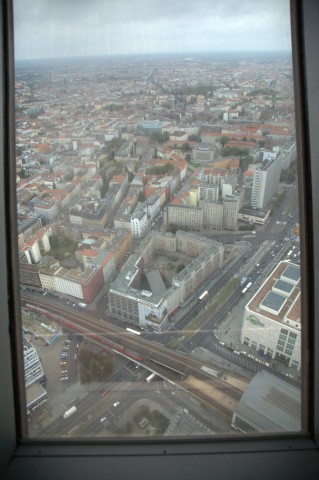 Up ther you could see out (down)…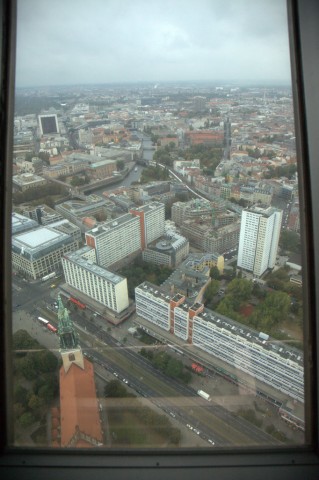 … in several different directions.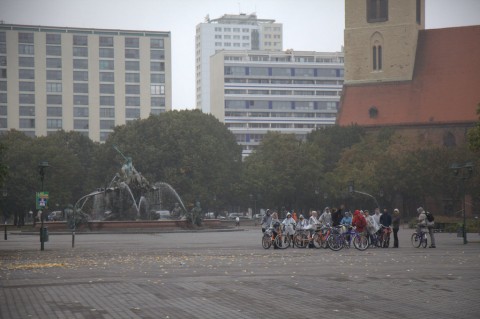 Below there was a lot of different sights an a lot of people that looked at them. It rained so they looked quite miserable in their ponchos… (me on the other hand didn't have any rain wear so I probably looked even worse)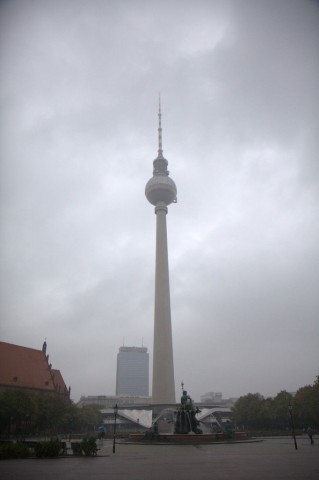 The tower from below. and some fountain that looked famous.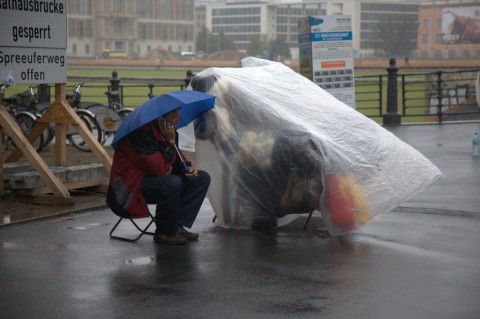 Though the weather you could (try to) sell stuff…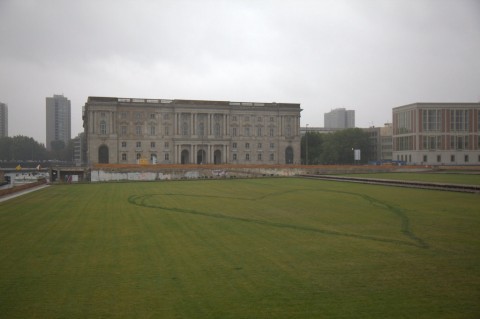 Someone has made some grass pretty.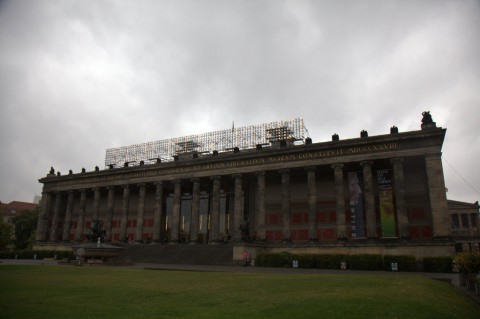 This house also looked famous…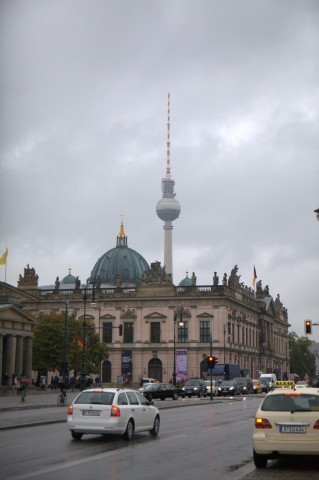 Note how the tower makes the picture get some background and also become incredible interesting… Serously: it was a good tower to hawe in the backgroud to give the picture some more life and the tower also was very suitable in this picture since it matches th building coupol with the ball.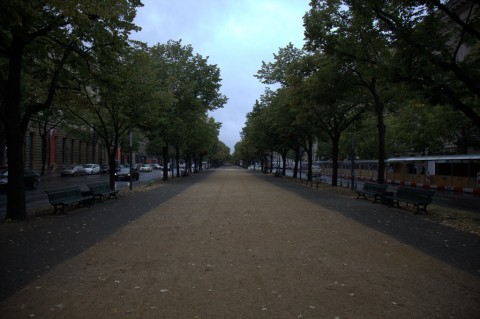 Unter den linden! (Under the linden)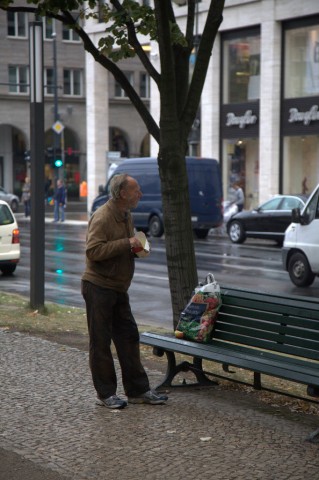 A man poses nicely while eating his fast food.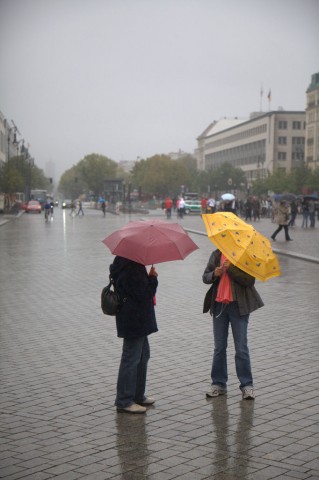 It started to rain more.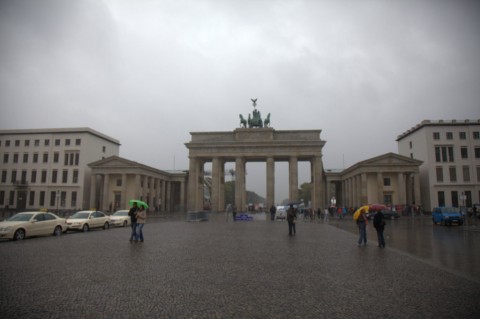 Brandenburger tor.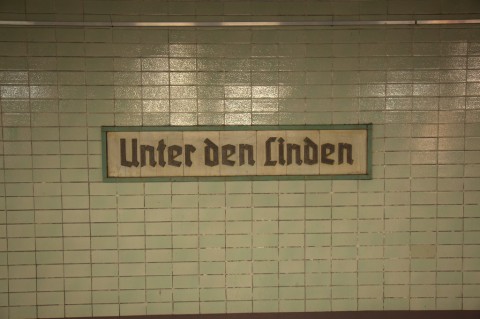 Now I am really under the linden (in the subway).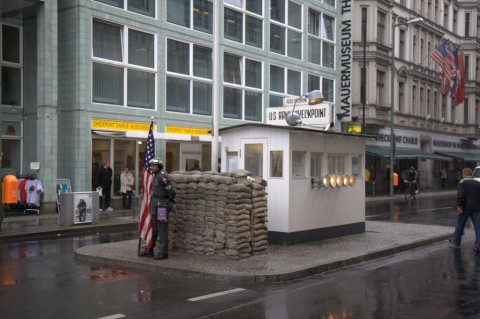 Checkpoint charlie. Here they had a lot of info about the wall that I actually spended some time reading. Checkpoint Charlie was the checkpoint where the allied passed to the east when they neaded to go there.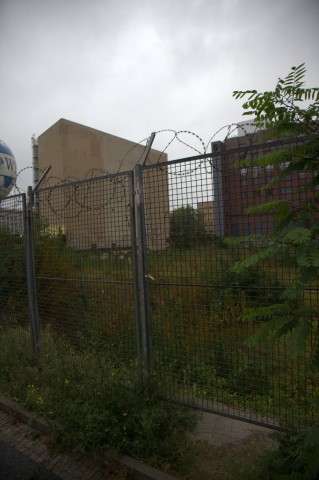 A deserted yard.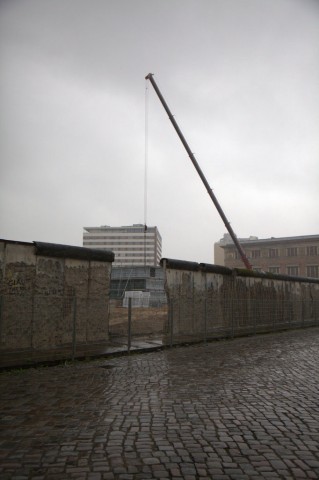 A bit of quit badly shapen wall. I'm sure there is a story to why it looked like that but I never heard that story. Behind the wall they were building something. They builded styff at a lot of places in Berlin.
Wednesday, October 7, 2009, 22:02
Here it is a lot of pictures. I thought rather more than not…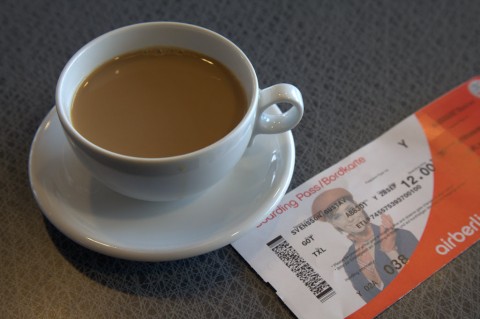 Ther trip begun in good time so I had this cup of coffee for about an hour at Landvetter (the airport i departed from in Göteborg).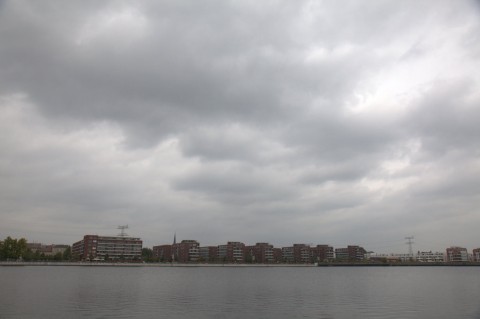 A while later I was in Berlin. This picture was the first I took while on a walk in the direction that appeared nicest…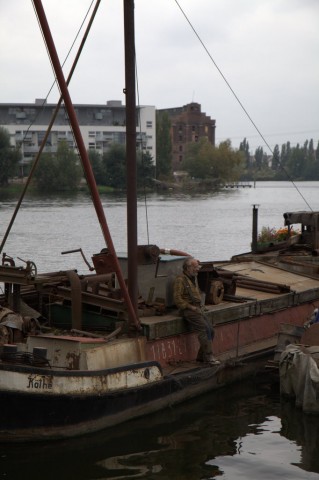 I found a brown man on a brown boat. On the next bot (20 m away) there sat some fellas that thought he should charge me a cage of beer or a joint.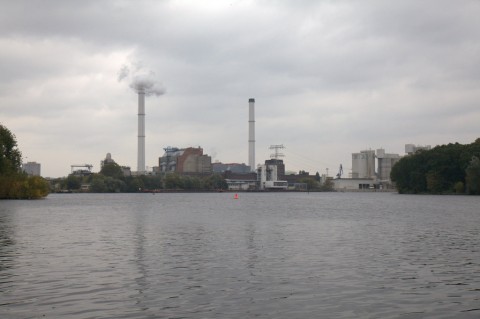 Nice(?) with chimneys.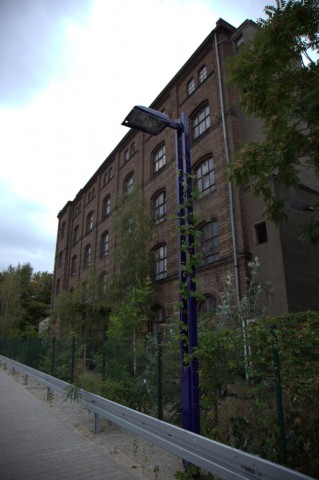 One of a lot of deserted houses. Althou this house was probably not entirely deserted since it has som hole windows…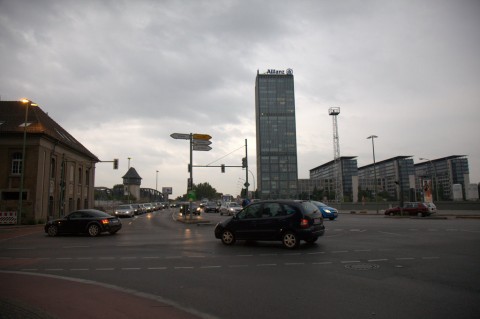 One other picture I don't really know why I uploaded. But it is nice(?) with traffic.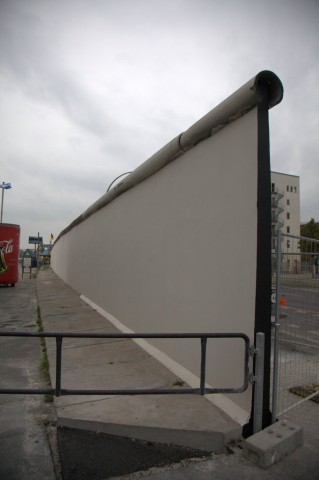 The wall!!! This side is the west German. This particular part is the longest that has been keept. I think they keep it as a reminder so that one should never more buils similar awful walls (like they recently did in Israel and as the schengen practically is and as the Americans have against mexico…).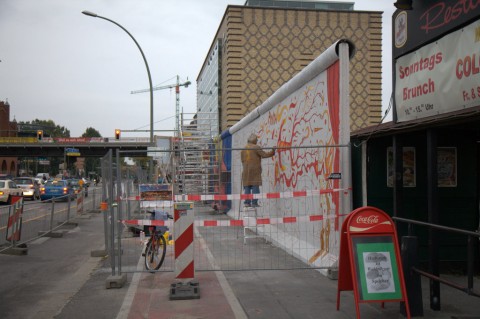 On the East side of the same bit of wall they paint a lot of art.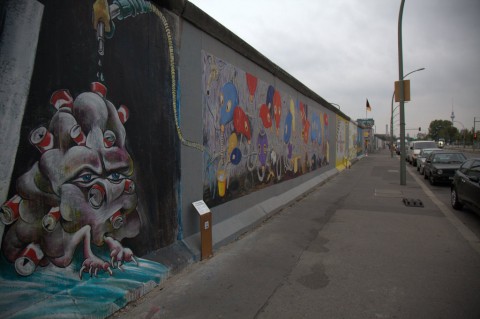 Art already painted.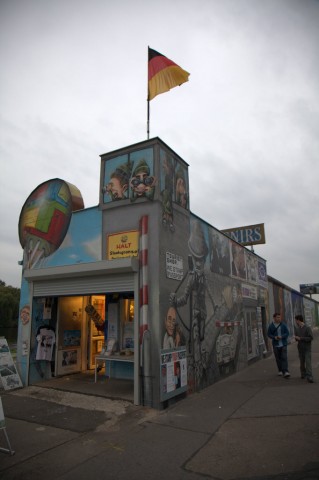 A passage in the same bit of wall that has been remade into a tourist shop.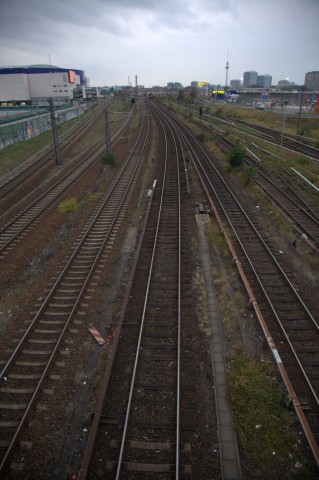 Railroad…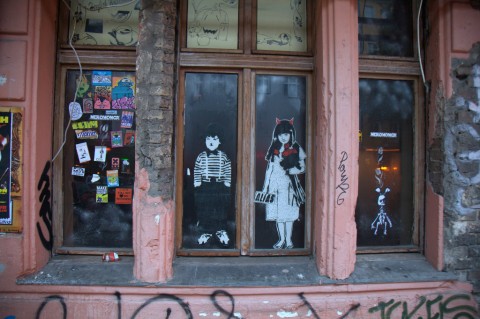 Part of all of the incredibly lot of grafitti they have in Germany. Here in Sweden we want our walls boring so we turn all tha grafitti art people to the police like maniacs.
More to come, now I'm gonna sleep so I don't get the cold I'm about to get that Bodil infected me with.